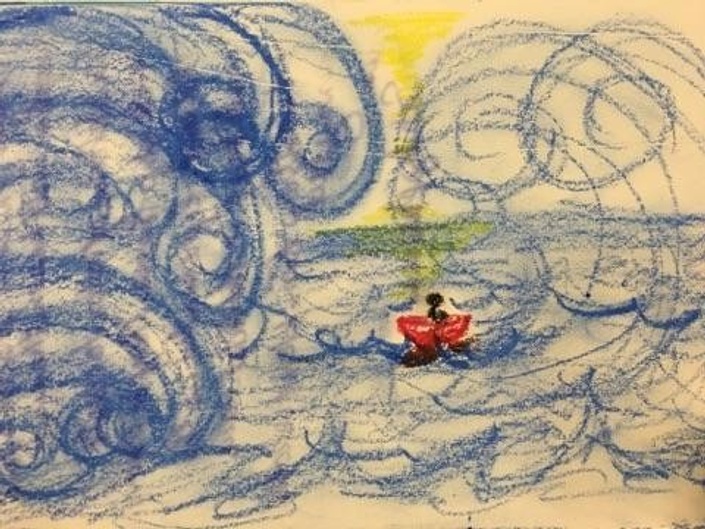 A parent and child, how to cope with stress.
Parents can learn to better understand their children
Watch Promo
About the course:
Mindfulness and therapy are both very important in our lives. Mindfulness allows us to be present, peaceful and calm in the moment. It helps us to focus our attention, as well as observe and experience our thoughts and emotions.
Art Therapy, when combined with mindfulness, can be a very effective way for children to deal with anxiety, depression and stress.
Art gives us the opportunity to find a balance between emotions and thoughts. And the action of creating art naturally lends itself towards mindfulness. It's a powerful combination.
"Process & Processing" is an educational program focusing on emotions and thoughts, and how to better understand both during the art making process.
When parents watch this educational video at home together with their children, they have the opportunity to join this program in a convenient location and work together on the exercises. Through my educational and experiential videos, parents can learn to better understand their children. At the same time, children will learn more about themselves in an enjoyable and relaxing manner.
My "Process and Processing" video program offers connections through stories. You'll find that there are a wide variety of creative exercises and directives that allow self-discovery from a variety of different angles.
Children learn how to better understand their thoughts and emotions and how to solve problems in a new way. They also gain the ability to create, process, accept, regulate and express their emotions safely and calmly.
All the videos relate to how to emotionally and cognitively function in this world. During each video class, we start by asking key questions. These questions help children and their parents understand the structure behind the directives.
Other video outcomes include:
-Helping children organized their thoughts in constructive ways
-Allowing kids to express their uniqueness
-Teaching children how to better organize their thought processes
-Practicing logical thoughts
-Examine meanings through organized thinking
It's possible to express thoughts and emotions in different ways. One of the ways is when we can do this is to express emotions first and then our thoughts. Another way is that we first organize our thoughts and then we express emotions.
Description of sessions:
A Tree
During the session entitled "A Tree" children will have the opportunity to creatively express themselves in a new way relating to nature. This mindfulness exercise effectively allows children to witness their own thoughts and emotions, without giving those thoughts too much attention. Children can observe how they feel in the moment within a fully comfortable and supportive environment.
Participants will be asked to draw themselves as though they were a tree. Just like leaves are attached to a tree, our minds are attached to our body. The body is kept stable through our thoughts and emotions.
One of the goals of "A Tree" is for children to learn the importance of the connection between their thoughts, emotions and body. Participants will also begin to understand more about their own inherent strengths.
Discovering emotions through color
Everyone experiences both positive and negative emotions, but it isn't always possible to differentiate between them. This directive involves colors to allow children to learn to express their emotions in an entirely new way. Children discover how different colors feel to them and which colors evoke different emotions.
Through the artmaking process, children learn it is possible to express emotions through colors. The process of painting allows them to process the emotions in a supportive and safe way.
During "Learning One's Own Emotions and Thoughts Through Colors'' participants will have the opportunity to discover their own personal stressors and learn how to connect those stressors to their emotions. The goal is to learn to safely process emotions.
Discovering what makes You You
During this session, children have the opportunity to draw themselves and discover more about themselves in the process.
The discussion revolving around this directive focuses on how everyone has certain uncertainties growing up. This could be everything from uncertainties about our goals and career choices to friendships, moral values and group loyalties. During these moments, there are always moments where we question ourselves.
The goal of this directive is for participants to discover their unique characteristics and traits. The end result is a significant boost in self-awareness. They also have the opportunity through this group process, to learn that they share commonalities with their peers.
Riding the wave
During the session entitled "The Wave" children will be asked to visualize a wave at the beach. That same wave can reflect our lives and the way we experience challenges. "Can we remain balanced and centered even when we are surfing on waves?"
As participants listen to gentle music that sounds like the ocean waves, they will be asked to visualize the various attributes of a wave including its size, speed, color and strength. Children will be asked to reflect on how they feel while visualizing this wave.
The lesson in this exercise is that it is possible to learn to surf any waves one encounters while still staying balanced. As children become mindful of their emotions they can notice them arise, shifting and then passing away.
Two sides of the bridge
Everyone lives in their present moment and yet constantly builds plans for the future. During this session, we address the present and the future. This transformational activity includes having children create their own personal version of their bridge through mindful painting. This bridge represents the space between current and future plans.
Questions that are addressed during "The Bridge" include, "How can we successfully achieve future plans and how can we properly prepare for the future?
The successful outcome of the bridge is that children will begin to express how they see their future. They will also gain insights into how they perceive their future plans.
How this course will help me ?
- Learn how to be nonjudgmental
-Allowing kids and parents to express their uniqueness
- Enjoy mindfulness and art as a family emotional bridge activity
- Build your positive emotions
- Learn from these lessons how to use mindfulness and art for harmonious enjoyment
- Build on your confidence levels and increase your self esteem
The path to wellness is achieved when we find a balance between thoughts and emotions.
Your Instructor
Frequently Asked Questions
When does the course start and finish?
The course starts now and never ends! It is a completely self-paced online course - you decide when you start and when you finish.
How long do I have access to the course?
How does lifetime access sound? After enrolling, you have unlimited access to this course for as long as you like - across any and all devices you own.
What if I am unhappy with the course?
We would never want you to be unhappy! If you are unsatisfied with your purchase, contact us in the first 30 days and we will give you a full refund.